Sommer GmbH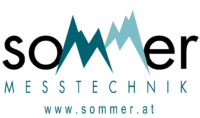 SOMMER designs and manufactures innovative, high quality devices for environmental monitoring. With its over three decades long know-how SOMMER provides instrumentation with cutting-edge technology for snow and hydrological applications.
For more than 20 years SOMMER has been focusing on snow monitoring and manufactures various sensors for the determination of SWE, snow depth, liquid water content, ice content, and icing on surfaces.
SOMMER is actively participating in dedicated research studies and has earned a name with products for liquid water content and SWE measurements. One result of this commitment is the maintenance-free ultra-sonic snow depth sensor, which stands out due to its robustness, accuracy and reliability.
SOMMER has also gained in-depth knowledge of hydrology, seamlessly extending its product portfolio to liquid water applications. In hydrology, SOMMER strongly focuses on non-contact flow monitoring, but also offers a wide range of instrumentation for conventional water flow and quality measurements. Examples are the non-contact, radar based discharge, flow velocity and water level sensors and the tool-kit for tracer based discharge measurements.
Know-how, awareness and instinct enable SOMMER to enter new markets with smart and innovative designs. Flow monitoring of industrial, technical canals with non-contact radars is an example of its continuous development.