The Copernicus Climate Change Service (C3S) has found that October 2023 was the warmest October on record globally, with an average surface air temperature of 15.30°C, 0.85°C above the 1991-2020 average for October and 0.40°C above the previous warmest October, in 2019. With these findings, Copernicus researchers are now "virtually certain" that 2023 will be the warmest year on record.
The global temperature anomaly for October 2023 was the second highest across all months in the ERA5 data set, behind September 2023. The month as a whole was 1.7°C warmer than an estimate of the October average for 1850-1900, the designated pre-industrial reference period. For the calendar year to date, January to October, the global mean temperature for 2023 is the highest on record, 1.43°C above the 1850-1900 pre-industrial average, and 0.10°C higher than the 10-month average for 2016, currently the warmest calendar year on record.
For Europe, October 2023 was the fourth warmest October on record, 1.30°C higher than the 1991-2020 average. The average sea surface temperature for October over 60°S–60°N was 20.79°C, the highest on record for October. El Niño conditions continued to develop in the equatorial Pacific, although anomalies remain lower than those reached at this time of year during the development of the historically strong 1997 and 2015 events.
Samantha Burgess, deputy director of the Copernicus Climate Change Service (C3S), said, "October 2023 has seen exceptional temperature anomalies, following on from four months of global temperature records being obliterated. We can say with near certainty that 2023 will be the warmest year on record and is currently 1.43°C above the preindustrial average. The sense of urgency for ambitious climate action going into COP28 has never been higher."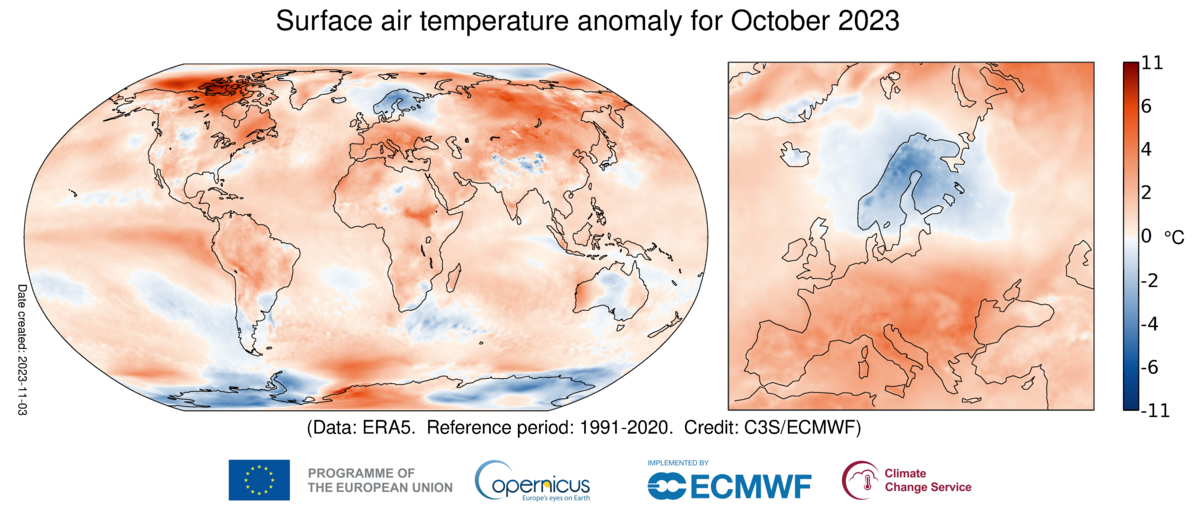 October marked the sixth consecutive month that Antarctic sea ice extent remained at record low levels for the time of year, with a monthly value 11% below average. Arctic sea ice extent reached its seventh lowest value for October, at 12% below average.
In October 2023, precipitation was above average across most of Europe. Storm Babet hit northern Europe, and storm Aline impacted Portugal and Spain, bringing heavy precipitation and flooding. Beyond Europe, it was wetter than average in several regions including the southwest of North America, parts of the Arabian Peninsula, regions of Central Asia and Siberia, southeast China, Brazil, New Zealand and regions of southern Africa. Such conditions were often associated with the transit of cyclones which triggered heavy rainfall and substantial damage. It was drier than average in the southern USA and parts of Mexico both experiencing drought, in regions of central and easternmost Asia, and in most of the extratropical southern hemisphere, including Australia.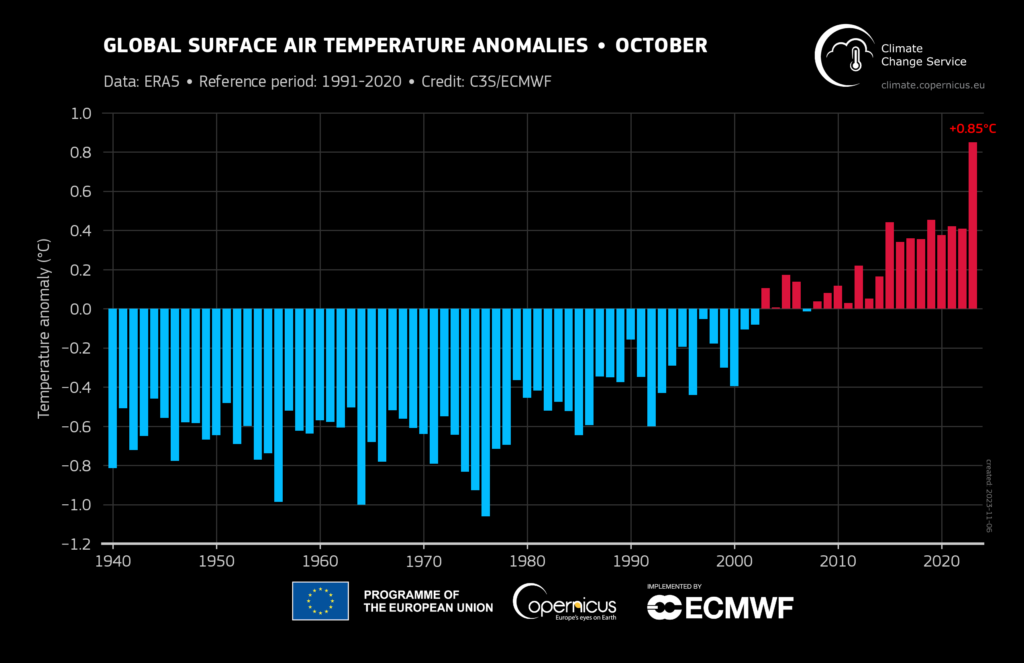 For more key climate measurement updates from the meteorological technology industry, click here.
This article was originally posted on the ECMWF website, and can be viewed here.
Headline and opening paragraph adapted to suit the Meteorological Technology International website. Content shared under Creative Commons — Attribution 4.0 International — CC BY 4.0