Meteomatics, a Swiss company specializing in advanced weather forecasting technology, will be presenting its weather drones, known as Meteodrones, on the evening of October 4, in Payerne. The demonstration is part of Meteorological Technology World Expo, taking place at Palexpo in Geneva on October 3, 4 & 5.
Participants will have the opportunity to discover how the Meteodrones can enhance local weather forecasts, offering valuable insights to assist global business leaders in decision making.
Improving weather data collection in the lower layers of the atmosphere
Meteomatics developed its Meteodrones as a solution to address the limitations of conventional instruments, including weather stations, satellites, radar, aircraft and radiosondes, in gathering weather data from the lower layers of the atmosphere. Equipped with special sensors, Meteodrones collect information about temperature, humidity, air pressure and wind speed and direction, performing vertical profiles up to 6km thanks to their rotary wings.
The integration of this data into weather models results in significant enhancements to forecasts of thunderstorms, strong winds, fog and hail – severe weather phenomena that form in the atmospheric boundary layer. Such improved hyperlocal forecasts play a critical role in various operations such as airport air traffic management and providing early warnings for severe weather events such as tornadoes or hurricanes.
Thanks to their numerous advantages, Meteodrones offer an attractive alternative to radiosondes – small instruments attached to weather balloons that ascend into the atmosphere to measure atmospheric parameters. Radiosonde limitations include restricted mobility, limited lifespan, high cost and the potential for environmental harm. In contrast, Meteodrones can be controlled remotely, allowing for precise and extensive data collection in targeted areas at 30-minute intervals. These sustainable and reusable instruments can undertake multiple missions over several years.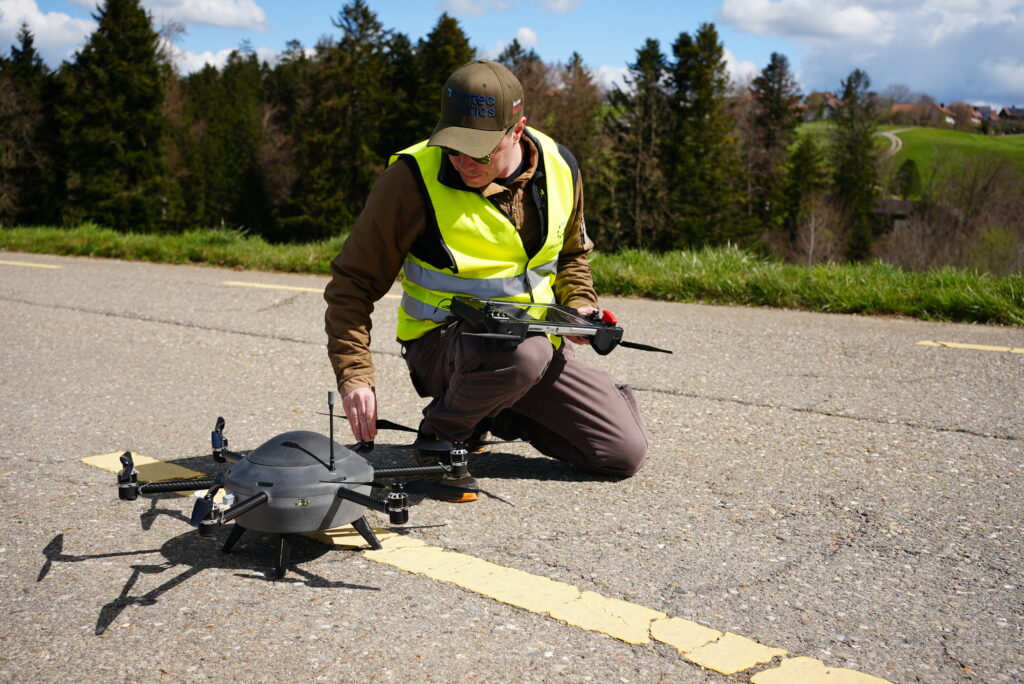 Expert drone pilots can operate Meteodrones directly from a ground control station, ensuring precise control during on-site operations. Alternatively, pilots have the option to remotely control the drones using a Meteobase, a ground station equipped with a central computer. The Meteobase fulfills various essential functions such as managing the operation, control and maintenance of the drone, as well as monitoring and logging weather parameters at the site. This advanced system enhances flexibility and efficiency in the operation of Meteodrones.
Flying 6km into the atmosphere
Meteomatics was the first company in Switzerland to receive authorization from the Swiss Federal Office of Civil Aviation (FOCA) – which is based on the European Union Aviation Safety Agency (EASA) regulations – to fly unmanned aerial vehicles in conditions beyond visual line of sight (BVLOS). As a result, Meteodrones are authorized to fly within clouds and fog, reaching altitudes of up to 6km, both during the day and at night, within Switzerland and the Principality of Liechtenstein.
With this authorization in place, Meteomatics can collaborate closely with national flight authorities to secure flight approvals for Meteodrone operations across all member states of the EASA. The approval process involves direct communication and the exchange of pertinent documents with the national flight authority of the intended demonstration location.
In April 2023, Meteomatics received special authorization from the Irish Aviation Authority to carry out a daytime demonstration in Ireland, specifically for Met Éireann, the Irish meteorological service. The demonstration took place at the Valentia Observatory, aiming to assess the potential of integrating Meteodrone measurements as a complement to radiosonde measurements. The ultimate objective was to explore the feasibility of replacing radiosondes with Meteodrones.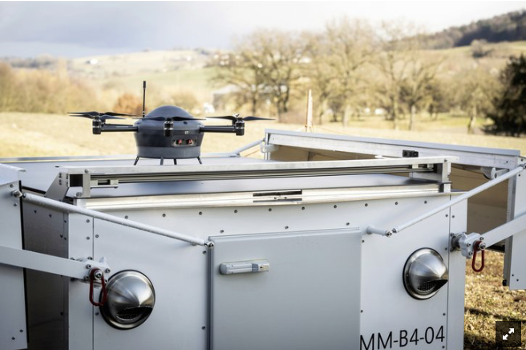 Meteomatics is also making strides in the US. In collaboration with TruWeather Solutions, Grand Sky has launched the nation's first drone-based microweather service in North Dakota. The data – collected by Meteodrones – will be ingested into a high-resolution forecast model developed by Meteomatics specially for North Dakota that accounts for all the weather details, datapoints and parameters within a given square kilometer. This model will power TruWeather's decision analytics, enabling real-time weather forecasts.
Meet Meteomatics' experts at Meteorological Technology World Expo
Meteomatics will participate at Meteorological Technology World Expo, the largest exhibition in the world for suppliers and manufacturers of meteorological services. The event will be held in Geneva, October 3, 4 & 5. Throughout the three-day expo, a dedicated team of experts will be available at Booth 4050, offering insights and information to attendees.
Click here to register for Meteorological Technology World Expo.
Register for a Meteodrone demonstration
A notable highlight of the event will be the live demonstration of the Meteodrone system. Under special authorization from the FOCA, Meteomatics will showcase Meteodrone flights up to 6km above ground. The demonstration will additionally highlight the Meteobase, an integral component that contributes to a fully autonomous and remote drone-in-a-box solution. On October 4, registered participants will have the opportunity to attend this event in Payerne from 17:30 to midnight.
Expo participants are invited to register for the Meteodrone Demo until September 22 by completing the contact form available on the Meteomatics website. Please follow this link for registration. Attendance is subject to seat availability.
To read the latest news about Meteomatics, click here.