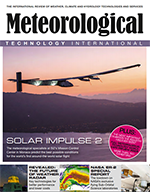 The September 2015 issue is now available online! Packed full of news, interviews and features, including:
COVER STORY: SOLAR IMPULSE 2 : The combined efforts of the met and simulation experts on the ground give Solar Impulse 2's pilots the vital back-up they need to navigate the safest route possible
NASA ER-2 : Two Lockheed ER-2s are used as flying laboratories in NASA's
Sub-Orbital Science Program. Meteorological Technology
International talks to the program's pilots about the challenges
of flying these unique aircraft, and the meteorological
equipment installed on board
PRECIPITATION SENSORS : Lambrecht Meteo has taken over and extended Wilhelm
Lambrecht's operations and is launching new products, with
special focus on the novel precipitation sensor, rain[e]
VOLCANIC ASH SENSORS : To help ensure the safety of aircraft in flight, the need for
real-time observation of volcanic ash cloud is critical. But
what is the industry doing?
HAZARD MODELING PROGRAM : The ALOHA hazard modeling program provides real-time
meteorological information to emergency personnel
X-BAND TECHNOLOGY : There is resurgent interest in X-band radars for
hydrometeorology