With over 300 radar systems deployed worldwide, EWR Radar Systems, Inc. has been the industry leader in portable/tactical weather radar systems since 1982. EWR's heritage in developing portable radar systems for use in tactical applications, in conjunction with the company's dedication to the advancement of weather radar technology with state-of-the-art products and services, has made EWR the gold standard in weather radar.
GAMIC was established as a company for meteorological signal processing systems. Besides our proven signal processor ENIGMA, GAMIC provides complete X-band Doppler weather radar systems with single or dual polarization, either magnetron or solid-state transmitters. The multifunctional GMWR weather radars are compact and cost-efficient solutions for hydrology, aviation, population and asset protection, agriculture, research, gap-filling, and early warning systems.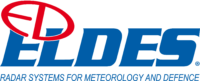 Founded in Florence in 1993, and today with Legal and Operational Headquarter in Scandicci (Florence), ELDES is a market leader for Radar Solutions in the Meteorology and Defence sectors.
Two business lines guided by the same evolutionary approach and the same technological skills base.