OEM components
GAMIC was established as a company for meteorological signal processing systems. Besides our proven signal processor ENIGMA, GAMIC provides complete X-band Doppler weather radar systems with single or dual polarization, either magnetron or solid-state transmitters. The multifunctional GMWR weather radars are compact and cost-efficient solutions for hydrology, aviation, population and asset protection, agriculture, research, gap-filling, and early warning systems.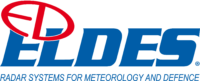 Founded in Florence in 1993, and today with Legal and Operational Headquarter in Scandicci (Florence), ELDES is a market leader for Radar Solutions in the Meteorology and Defence sectors.
Two business lines guided by the same evolutionary approach and the same technological skills base.