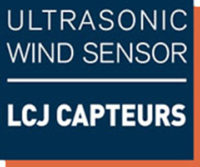 LCJ Capteurs has been designing and manufacturing ultrasonic wind vane - anemometers since 1999. As the forerunner of the ultrasonic wind sensor in the marine sector, this French company proposes products at a very good value for money and energy self-sufficient thanks to its wireless version.
Over 20 years, LCJ Capteurs has improved and enhanced its product range to offer the best and most efficient compact, robust and lightweight wind sensors. They are designed and manufactured in the workshop, and tested in its own wind tunnel. LCJ Capteurs also tests the products in a climatic chamber and finally in an ageing bench. Every test is recorded against the unit's serial number to ensure reliability, accuracy and robustness.
Conventional wind sensors have moving parts that are generally subject to wear and tear. This is why the LCJ Capteurs' products have a much longer life span than conventional wind sensors, as they don't have any rotating parts.
There are 3 types of terrestrial sensors: NMEA0183 / MODBUS - ANALOG / Very low consumption or zero-power.
LCJ Capteurs can supply sensors already mounted on vertical poles (external power supply or self-powered) or OEM solutions to incorporate into your own system. They are compatible with all interfaces used on weather stations.
According to the specifications defined with the customer, the Design Department meets the requirements in order to manufacture a tailor-made finished product.
The LCJ Capteurs' ultrasonic wind sensors are supplied to weather station integrators, connected agriculture systems, smart buildings, the sports sector, pollution detection systems and various other domains.
As the company continues to grow, a project to extend the building is in progress since January in order to increase the production and storage capacity.