The future success of US weather forecasting relies on increasingly productive collaborations between the public sector, private sector and academic and research communities. That was the message from Antonio Busalacchi, president of the University Corporation for Atmospheric Research (UCAR) when testifying at a recent US congressional hearing for the reauthorization of the Weather Act (2017). MTI discovers more about the UCAR president and what the future holds for the organization
What attracted you to the sector?
I knew I wanted to be an oceanographer in grade school. I was a product of the space race in the early 1960s, and as a kid I had this realization that we knew less about our oceans than aspects of outer space. I was drawn to the oceans because they were an unknown.
What is your area of expertise and why is it important?
My PhD from Florida State University is in oceanography, but my major professor was a meteorologist. So, I was trained as an amphibian with one foot in the ocean and one foot in the atmosphere. I focused on air-sea interactions, studying how the ocean is coupled to the atmosphere and how that interaction gives rise to El Niño and the Southern Oscillation. Such processes are critical for understanding climate variability and for advancing predictive skill beyond the limits of day-to-day weather forecasting.
Ironically, being a product of the space race, my professional career began as an oceanographer when I was offered a civil servant position at the NASA Goddard Space Flight Center. I had already had a post-doc lined up with Professor Mark Cane at MIT, but when NASA/Goddard came calling with a permanent position, Mark was very supportive, and I started my career at Goddard but also collaborated with Mark for many years. During my 18 years at Goddard, I became a branch head and a lab chief, and I also served as a member of a senior executive service in the federal government. I next went to the University of Maryland, where I was director of the Earth System Science Interdisciplinary Center, helping to coordinate research into the oceans, atmosphere, land surface interactions and other aspects of the Earth system. After 16 rewarding years there, I assumed my current position as president of UCAR in 2016.
What are your favorite parts of the job?
Since I am now on the back nine of my career, my focus is on supporting the science and advocating for the science. I am especially interested in research that advances our understanding of the coupling of different components of the Earth system, such as the atmosphere, ocean, land surface and cryosphere, and how that can lead to enhanced predictive skill.
Who has been your biggest role model?
I have been fortunate in benefitting from several role models and mentors. The person I would like to mention in particular was my major professor, Jim O'Brien. Jim taught me what it is like to be a successful practicing scientist. He gave me opportunities as a graduate student to go out and defend my research, be it at the American Geophysical Union (AGU), American Meteorological Society (AMS) or seminars at universities. I even remember a trip from Tallahassee to Washington DC when I presented to the National Academy of Sciences as a student. Jim helped teach me how to write papers, how to critically read papers, how to orally present and defend one's work, how to write a proposal and how to review a proposal. I brought those skills into the classroom when I was a professor at Maryland because I saw other graduate students were not benefitting from the level of mentoring that I got from Jim.
What has been your biggest achievement in your career so far?
The most gratifying part of my career has been seeing my former students excel. I treated the students in my class as if they were my own graduate students, and half of my class focused on what it meant to be a practical scientist. I have heard numerous times from students who have told me that the single greatest influence on their career path was the course that they took from me. I got an email the other day from someone who was still putting into practice what they learned in my class 20 years ago. Those interactions with my students are deeply gratifying and what I miss the most in my present position.
Can you tell me a bit about your plans for UCAR? What challenges would you like to address?
UCAR's mission, as stated in our strategic plan, is: 'Leading world-class Earth system science through partnerships, innovation and service'. So that is certainly a central focus for me. Our organization has been around for 63 years, ever since its founding in 1960. At that time, the advent of digital computing and better understanding of the dynamics and physics of the atmosphere spurred a heightened interest in numerical weather prediction, and this led 14 universities to come together and propose a national center for atmospheric research. As a result of that, and in large part due to us, we now have a multibillion-dollar private-sector weather enterprise in this country that is a grand success and the envy of the world.
The arguments for NCAR back in the 1950s are just as valid today, if not more so, with respect to the need for a national center focused on studying the Earth as a coupled system. It is critical to explore the prospects for realistic actionable prediction as a result of the atmosphere, land, ocean and cryosphere being coupled together. If we look at the questions that society is asking us today, they are not the atmosphere by itself, the ocean by itself or the land surface by itself. Rather, they require that we look at the Earth system. Be it wildfires, coastal inundation, tropical storm intensification, atmospheric rivers or other potential threats, these are all coupled problems. We need to break down our silos if we are going to make progress in providing society with solutions.
What emerging or new technologies are you excited about?
One of our most important projects at the National Center for Atmospheric Research (NCAR) is a next-generation airborne radar that could revolutionize the ability to understand and ultimately predict high-impact weather events. The Airborne Phased Array Radar (APAR) has the capability to improve on existing radar by allowing scientists to sample the atmosphere at higher spatial resolution and probe more deeply into storms. Its agile scanning capability can switch radar beam directions almost instantaneously, allowing scientists to scan the atmosphere in any direction, which is an important advance over traditional fixed-direction airborne scanning radars.
The data from APAR will enable forecasters to better predict high-impact weather events, including hurricanes, atmospheric rivers, tornadoes, derechos and blizzards. APAR is currently in the development phase and we expect it to be operational within a few years. We talk a lot these days about research to operations (R2O) for modeling and prediction, but APAR has considerable potential for R2O as an observational platform.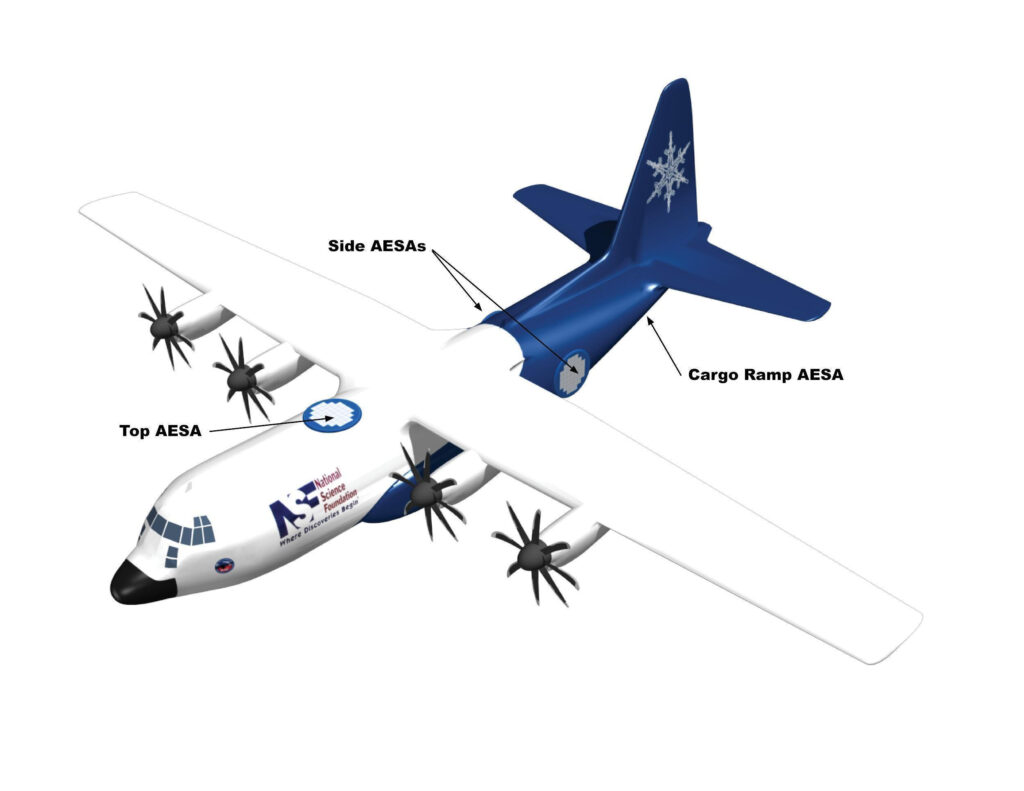 Another major project that we are working on at NCAR is the COronal Solar Magnetism Observatory (COSMO). This is being designed as a unique, ground-based facility that will address current shortfalls in our ability to measure magnetic fields in the solar corona. Its observations will be used to advance space weather forecasting by identifying and tracking the physical processes that create coronal mass ejections, which can affect communications systems, power grids and other sensitive technologies on Earth. COSMO consists of three instruments, including a 1.5m-aperture large coronagraph. Like APAR, it is in the development phase, and we are currently in the process of selecting a site.
What upcoming UCAR projects are you most looking forward to?
We recently set up the Center for Ocean Leadership in recognition of the important role that the oceans play unto themselves and within a coupled system. Housing the center within UCAR creates a historic partnership between the oceanic and atmospheric science communities that will help address the great environmental challenges of our time.
We also host the Joint Center for Satellite Data Assimilation, an interagency program funded by NOAA, NASA and the Department of Defense. This center is vital for efforts to advance the nation's predictive capabilities. As I recently testified before Congress, America's weather enterprise has a significant amount of data at its disposal but US weather forecasting capabilities continue to lag behind those of our European counterparts. This discrepancy is not due to a data deficit compared with the Europeans. Instead, it is because our European counterparts have made greater advances in data assimilation, and their forecast models are equipped with a better data assimilation system. It is highly important that, here in the US, we make significant investments in data assimilation and training of the next generation of our workforce to enable more accurate predictive forecasts with the observing systems we already have.
Any final thoughts?
Part of the challenge for our science, whether at universities, federal agencies or other organizations, is that our disciplines are divided into different stovepipes. However, all the questions that we are being asked to answer are interdisciplinary. If we are going to make progress, we need to break down those barriers and put reward systems in place that recognize these collaborations and interdisciplinary and transdisciplinary initiatives. That is the only way we are going to make significant progress.
This interview originally appeared in the April 2023 issue of Meteorological Technology International, which is now available to read here.