Saildrone is deploying a record 12 vehicles into the Tropical Atlantic and Gulf of Mexico this summer to support the US National Oceanic and Atmospheric Administration (NOAA) with advancing its research into hurricane forecasting.
The latest mission is part of ongoing research into how and why some relatively mild tropical storms rapidly intensify into major hurricanes, which is particularly destructive when it happens just before landfall. Between 1980 and 2021, hurricanes in the USA have been responsible for over US$1.1 trillion in total damages and 6,697 deaths.
Greg Foltz, NOAA scientist and one of the mission's principal investigators, said, "Rapid intensification, when hurricane winds strengthen by 35mph or more in a matter of hours, can be a serious threat to coastal communities. The data provided by Saildrone and the other uncrewed systems that NOAA is using will help us better understand the physical forces that drive hurricanes, with the goal of more accurate forecasts and earlier warnings for communities."
Saildrone is deploying 10 vehicles from St. Thomas, US Virgin Islands, St. Petersburg, Florida, and Charleston, South Carolina, to operate in areas with a high probability of intercepting a storm, as indicated by historical data. Two vehicles will remain on shore, ready for quick deployment in the event of an approaching hurricane. The 12-vehicle fleet is the largest Saildrone has ever deployed for a single mission.
Richard Jenkins, Saildrone founder and CEO, said, "Saildrone is proud to support this critical research being conducted by our long-time partners at NOAA. It is an understatement to say that the ocean is a vast place, and we know relatively little about it. But the more vehicles we can deploy, the more data Saildrone can provide to address not only hurricane forecasting but other maritime challenges like illegal fishing, safety of life at sea, and safe navigation."
In addition to the Saildrone Explorers, NOAA is using a variety of aerial, surface, and sub-surface technologies, including its Hurricane Hunter airplanes, small, uncrewed aircraft systems (sUAS), gliders, drifters and floats. The goal is to create a complete picture of the ocean-atmosphere interactions that drive hurricanes.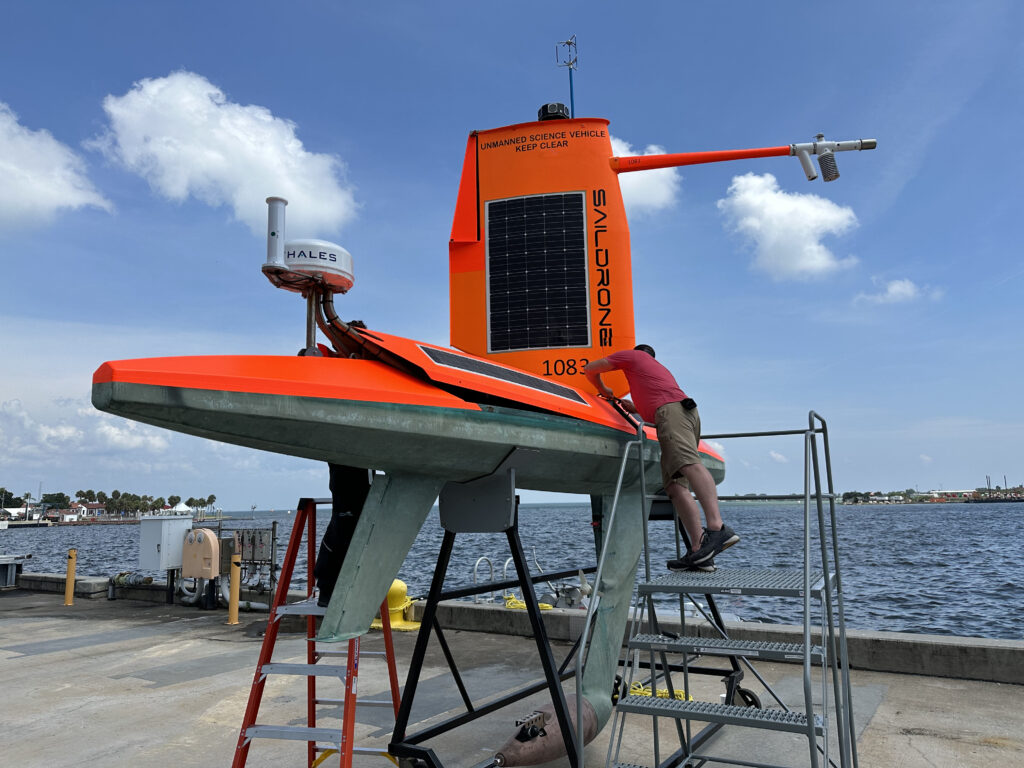 The saildrones will transmit metocean data, including air temperature and relative humidity, barometric pressure, wind speed and direction, water temperature and salinity, sea surface temperature, and wave height and period in near real time to scientists at NOAA's Atlantic Oceanographic & Meteorological Laboratory (AOML) and Pacific Marine Environmental Laboratory (PMEL), Saildrone's science partners in the mission.
NOAA Research will use the data collected by the saildrones to improve hurricane forecast models. The data will also be archived by NOAA's National Environmental Satellite, Data and Information Service (NESDIS) and sent by NOAA to the World Meteorological Organization's (WMO) Global Telecommunication System (GTS), where it is available for the world's major forecast centers—some 20 agencies worldwide, including NOAA.
A Saildrone Explorer is a 23ft uncrewed surface vehicle (USV) propelled by the wind and powered by solar energy, with a zero operational carbon footprint. Saildrone has designed a shorter, more robust wing to withstand hurricane wind speeds over 75 mph. During the past two missions in 2021 and 2022, Saildrone vehicles have sailed through several named storms and major hurricanes, including Hurricane Sam (2021) and Hurricane Fiona (2022).