More than 145 international exhibitors from over 100 countries around the world showcased their meteorological, hydromet, metocean and environmental monitoring technologies and services at Meteorological Technology World Expo 2023 at the Palexpo Exhibition Center in Geneva, Switzerland.
Held on October 3, 4 & 5, 2023, the show was an outstanding success, offering attendees three full days of intense networking with buyers and users visiting from national meteorological and hydrological services, environmental agencies, research institutes, universities and a whole host of weather-critical industries including aviation, road, rail, maritime, retail, renewable energy, offshore industries, insurance, leisure, utilities and more.
Meteorological Technology World Expo also hosted the Open Technology Forum, which featured an abundance of top presentations including the results and conclusions from the WMO's Upper Air Instrument Intercomparison 2022 (UAII2022), and the WMO's Infrastructure Commission (INFCOM) held the Forum on Advancing the Environmental Sustainability of Observing Systems and Methods. Both of these WMO events culminated in the organization's celebration of its 150th anniversary at its first-ever standalone booth at the show.
With an array of industry-leading expertise and cutting-edge meteorological technology available at the show's booths and presentations, visitors were able to tap into an unrivaled networking opportunity. Isabelle Rüedi, senior scientific officer at the WMO Secretariat, said, "Meteorological Technology World Expo is a great chance to see the new developments in the industry and to help us calibrate our work with the meteorological industry. At the show, we look forward to hearing from the industry people about what they are doing to improve the environmental sustainability of observing systems. This includes the new developments in this area."
Michal Najman, CEO and founder of Meteopress, said, "There's no other show like this. It's the biggest meteorological technology show in the world, and it's so well-attended. The people who make decisions on the purchase of this equipment come to this show."
Christoph Sommer, managing director of Sommer, commented, "Meteorological Technology World Expo is a great opportunity to showcase and introduce new products into the market and to show our customers. We are at the expo to meet our valued customers and partners from all around the world and also find new partners. The show is great because it brings together people from around the world for an exchange of knowledge and discussions.
Gary Stevens, CEO of Muir Matheson Aviation, said, "Obviously, this show is the one place where the meteorological world comes together to show what it has. We work in the aviation industry, so it's very important for us to actually know what sensors are being developed and what is new on the market. And the only real place you're going to see that is MET Expo."
New products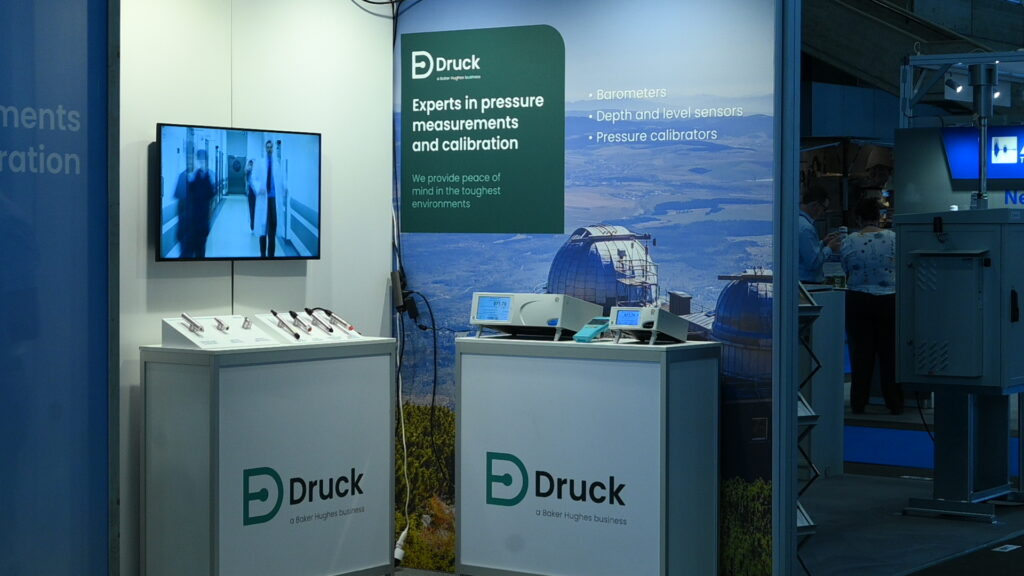 Pressure sensor expert Druck introduced the high-performance RPS 8100 Meteo barometer, which is based on proven proprietary trench-etched resonant pressure sensor (TERPS) technology, for integration into weather station systems. This new sensor product is designed to support the automated weather station market globally. The RPS 8100 Meteo is a compact resonant barometric sensor with Class 1 barometer accuracy between pressure ranges 500-1,150hPa at ±0.1hPa and stability at ±0.05hPa per year.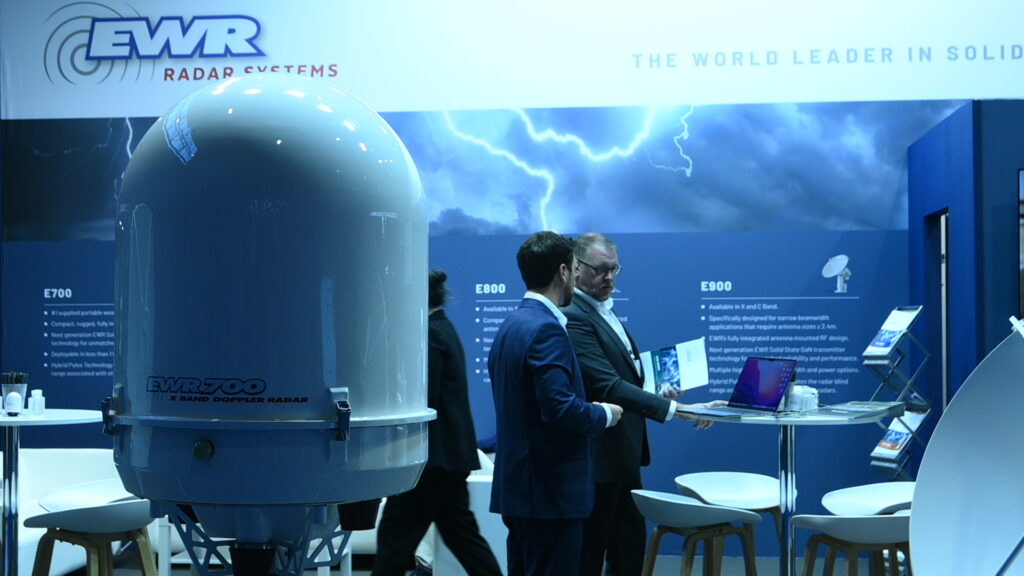 EWR Radar Systems released the web-based weather display and analysis tool EWR Watch, which possesses a simple yet highly customizable user interface, enabling users of all experience levels to analyze and display critical events and information. Previously, weather product analysis and radar operations were handled by multiple applications. EWR Watch has been designed to provide a simple and easy-to-use application that unifies all radar functionality into a single program.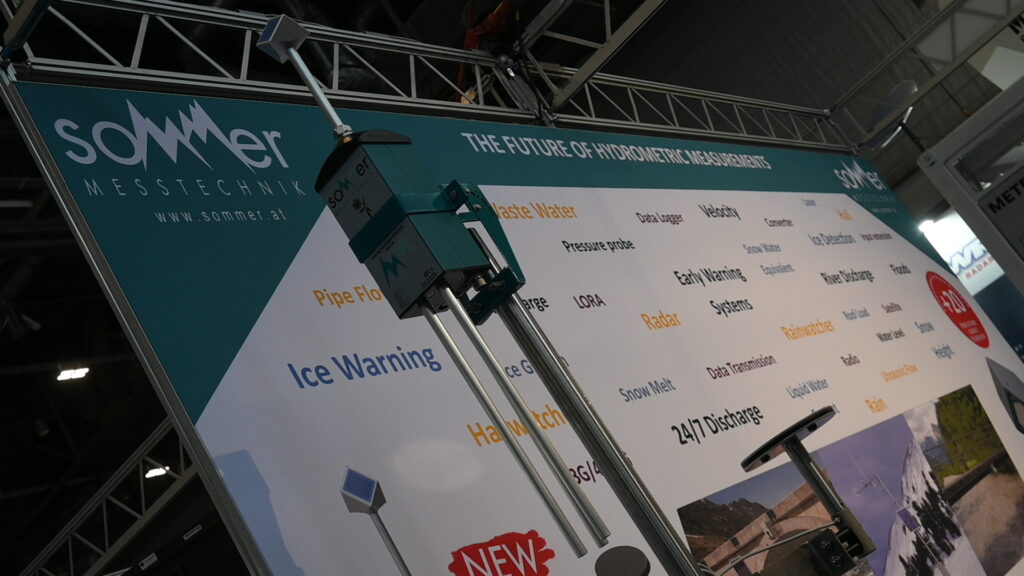 Sommer introduced its next-generation snow depth sensors, which are designed to measure the thickness of snow on the ground. Ultrasonic snow depth sensors emit ultrasonic waves and measure the time it takes for the sound waves to bounce back after hitting the snow surface. The sensor can calculate the snow depth based on the round-trip travel time and the speed of sound. Laser-based sensors use laser beams to determine the distance between the sensor and the snow surface.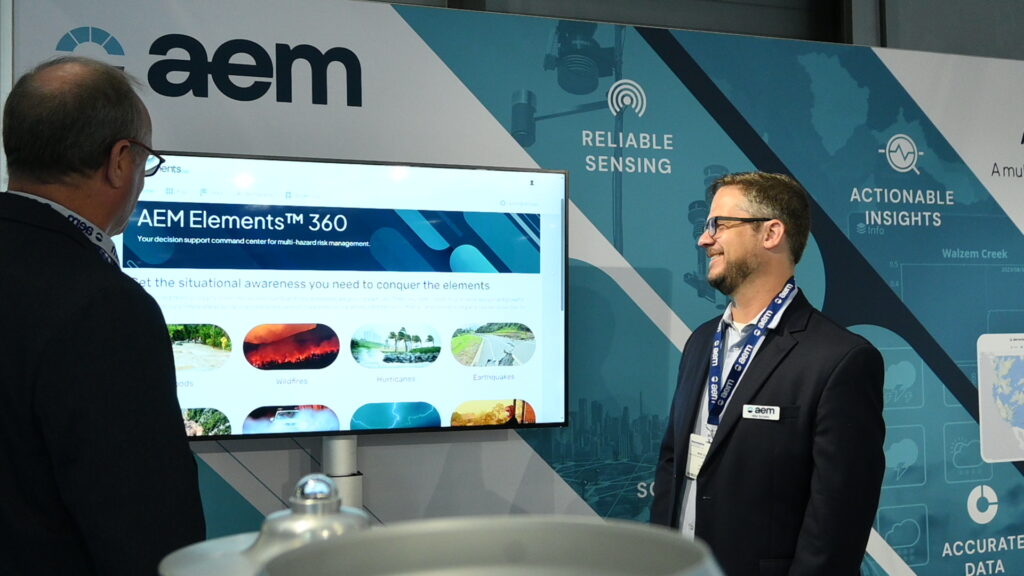 This year's Meteorological Technology World Expo also saw the launch of AEM's Elements Resiliency Platform, a multihazard solution to empower communities and organizations with decisive insights and tools for decisive natural disaster risk management and mitigation. AEM unveiled its AEM Elements 360, a comprehensive decision support application, at the launch. AEM Elements aims to serve as a comprehensive, all-in-one platform for resilience planning, adaptable to a wide variety of natural hazard scenarios, such as severe and extreme weather, flooding, wildfires, hurricanes and landslides.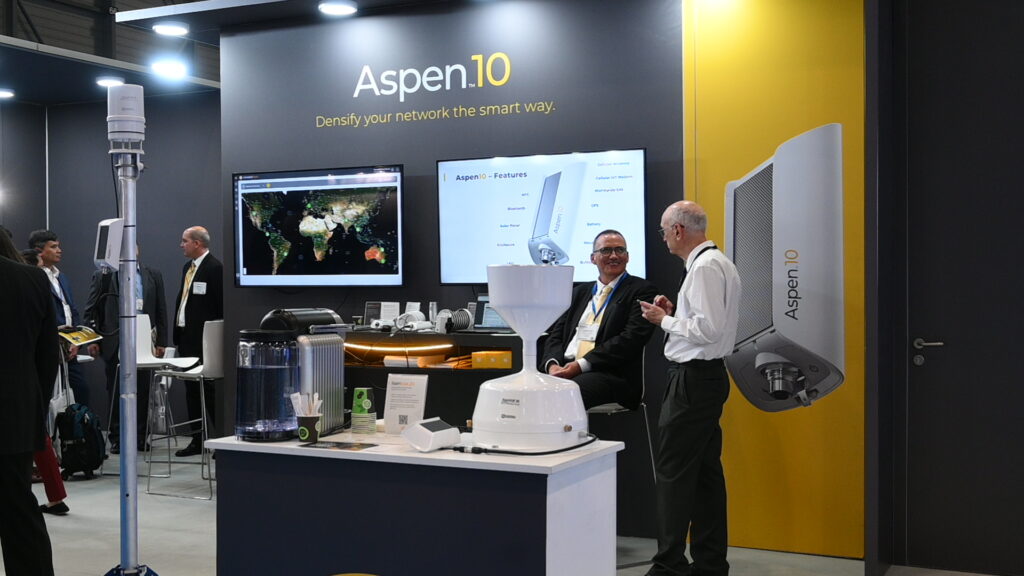 Campbell Scientific launched its smart Internet of Things (IoT) Aspen 10 Datalogger at Meteorological Technology World Expo. Aspen 10 has been designed to automatically recognize sensors that are hooked up to it and automatically transmit data to the cloud. Coupled with its small size, this is intended to enable users to start their networks quickly and easily with several different sensors in Campbell Scientific's portfolio.
Vaisala revealed the Radiosonde RS41 E-model, its first-ever biodegradable radiosonde, at Meteorological Technology World Expo. The radiosonde measures upper air temperature, humidity, pressure and wind. The company states that by integrating biodegradable mechanical parts, the atmospheric-sounding data solution creates 66% less plastic waste. It also releases no microplastics after use in natural environments like marine and freshwater.
Open Technology Forum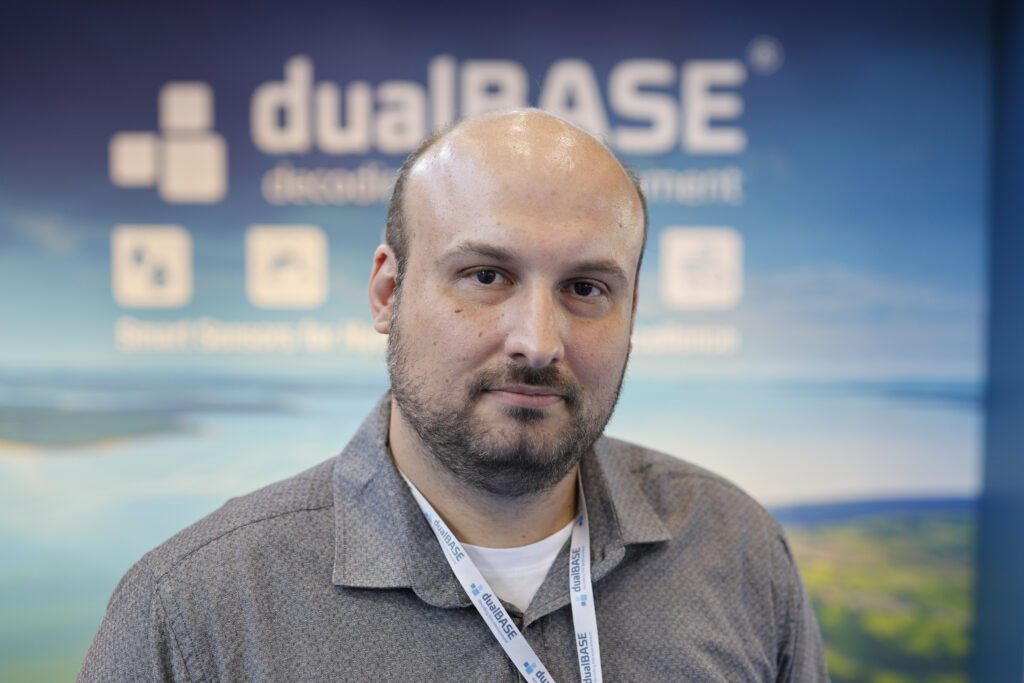 At the show's Open Technology Forum, pioneering speakers presented research and findings from the forefront of the industry. Leading presenters included: Giulio Certo, export manager at LSI Lastem, who discussed heat stress monitoring in smart city applications; Francisco Obelenis, new business manager at Dualbase Tecnologia Eletrônica (above), who presented 'Smart sensors: a way to get better measurements'; Keith Kelly, CEO of Agile RF Systems, who talked about network-centric multifunction weather radar sensing for a future smart city; and Johannes Frielingsdorf, head of R&D at Graw Radiosondes, and Niklas Wildenburg, the company's software developer, who introduced the Graw MultiSonde and sounding center at the forum.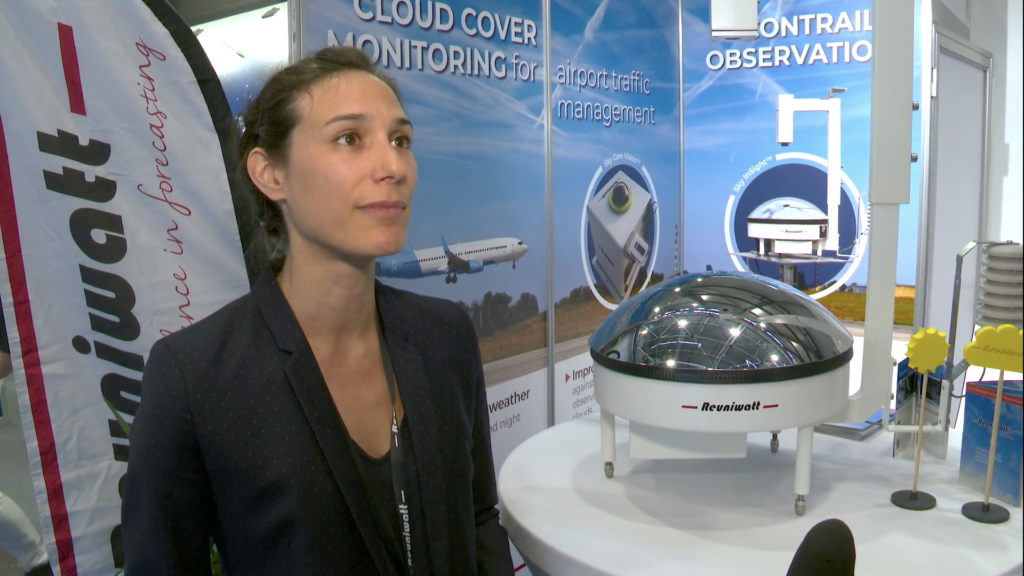 Additionally, Reuniwatt presented its infrared all-sky imager at the Open Technology Forum. As business development manager Marion Lafuma (above) discusses in this exclusive video, the imager continuously tracks and forecasts cloud cover. The solution, named Sky InSight, takes pictures of the cloud cover every 30 seconds and can observe and forecast cloud cover up to 30 minutes in advance. This gives users of free-space optical communication information to determine if the cloud cover will block wired communication. If the communication laser beam can't travel through the cloud, clients can then handover to another ground station where they can receive the message.
Fredrik Borgström, CEO of Skyfora, presented the company's ultralight and sensor-rich StreamSonde RS radiosonde at the Open Technology Forum, as seen in this exclusive video from Meteorological Technology World Expo. The solution is dual purpose – in that it can be used as a radiosonde and attached to a balloon, or as a dropsonde and dropped from an airplane into the eye of a hurricane. It has a 3D motion sensor, ambient light sensors and air quality sensors. All this while reducing the operational costs of upper-air in-situ observations by up to 30%.
Visitor quotes
Rachele Longhitano, scientific collaborator at the Repubblica E Cantone Ticino's Office of Environmental Monitoring, commented, "The show is a great opportunity to ask supplier questions and learn how to fix problems and what maintenance would be required. I work for the environmental monitoring office. We have a meteorological network station that's in need of some tech, so I'm looking around the show for a different sensor to buy or enquire about. This show is the best opportunity to meet all the key suppliers we know, so it's a good opportunity to see all of them."
Océane Grajwoda, a meteorological engineer at Direction Générale de l'Armement (DGA), said, "I'm here because I'm working for the French army and I would like to find some new technology that can help our tactical operations. So far, I've seen some very interesting solutions that could help. I was also at the show in Paris last year, so it's very interesting to see the massive differences in the technology and industry emerging already."
Richard Russell, managing director at electronic parts supplier Richard Paul Russell, said, "This is really the only show dedicated to meteorological instruments. I always come to MET Tech Expo to see what new products there are, and for the great networking opportunities."
Rory Moulden, sales engineer at MM Aviation, said, "Being new to the industry, this show is so useful to see what competitors are doing, see what their products do, learn about the industry and build relationships."
Ulrich Joss, scientific collaborator in the Office of Environmental Monitoring at the Repubblica E Cantone Ticino, said, "My organization has a service that collects all kinds of environmental data for public purposes. I'm here to see what is new on weather-observing technologies. For many years, I have just been working and not informing myself about what is new, so now it is time to get the updates – and what better place to do it than MET Tech Expo."
Exhibitor quotes
Mark D Miller, chief commercial officer of AEM, stated, "Meteorological Technology World Expo is a powerful convergence of technological innovation and forward-thinking approaches in environmental monitoring, climate readiness and disaster preparedness. We are particularly looking forward to connecting with governmental agencies and industry leaders who share our mission of enhancing resilience and climate readiness."
Jesper Nielsen, sales engineer at Brdr. Jorgensen Instruments, said, "This show is fantastic because all the competitors are available in one spot. I've participated in other trade shows, but they are normally not so good for meteorology and are focused more on other industries, like roads, airports, maritime technology, etc. but here, the companies are presenting all the best meteorology stuff."
Nick Demetriades, director of the environmental market at Campbell Scientific, said, "It was knowing the people who are going to attend Meteorological Technology World Expo that made us decide to launch our IoT Aspen 10 Datalogger here. Having been here for a number of years, we knew that a lot of the potential people we want to work with are going to be here, and we can expose them to it."
Patrick Minder, chief marketing officer at Swisens, said, "Meteorological Technology World Expo has always been a great opportunity for networking and meeting stakeholders, partners and customers within the meteorological community around the world. We like seeing and showing new technologies that push environmental monitoring to the next level in a demanding time of change on our planet."
Marin Dimitrov, business development manager of sales at OTT Hydromet Eastern Europe, said, "Meteorological Technology World Expo is full of experienced engineers, meteorologists, hydrologists and more. The event is an excellent opportunity to connect and learn about how our sensors and solutions are supporting their projects."
Nikša Orlić, CEO and co-founder of Geolux, said, "Meteorological Technology World Expo is a fantastic opportunity to keep in touch with all of our existing partners so that we can learn about their projects and stay up to date with any progress they are making. We can also show our new developments to our partners. We also expect to meet new potential customers and representatives for countries where Geolux does not have a presence yet."
Oona Andriasjan, global marketing manager of meteorology at Vaisala, stated, "This week has flown by at the biggest meteorology event of the year, Meteorological Technology World Expo, with the best team. It's been great getting to know our customers, partners and everyone in the meteorological community with the shared interest for environment and climate."
Don't miss out on the meteorological show of the year – register now for your free entry pass for the next show at the Long Beach Convention Center in California on March 13 & 14, 2024, and visit the website for the full exhibitor list and all the latest information.